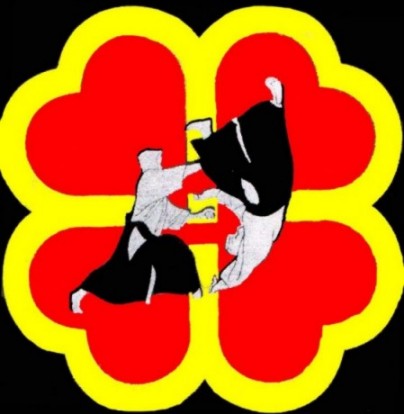 Onegaishimasu! Welcome to The Philippine Heart Center Aikido Club Home Page! The first hospital-based aikido dojo. Dedicated in teaching "The Traditional Art of Aikido" by its founder the late Morihei Ueshiba. Aikido is a form of unarmed combat derived from Jujitsu (a Japanese martial art) that utilizes throws and joint locks by using an opponent's own strength or force against himself. Aikido roughly translated means "The Way of Harmony of the Spirit." We are an affiliate of Aikido Philippines, accredited by the Hombu Dojo from Japan thru Aikiphil. So take off your sandals, step onto the mat and join us! We welcome those who are interested.

---
Shinbu Aikido Dojo 25th Anniversary and Aikido Seminar
By: Alexis Adrias

On behalf of Shinbu Aikido Dojo (National Museum, Manila) and Cris Buenaseda Sensei (Chief Instructor), I would like to invite all aikidokas out there to our 25th Year Anniversary celebration and Aikido Seminar on June 24-26, 2005.

Guest of Honor is Yukimitsu Kobayashi Shihan, 7th Dan Aikikai Hombu Dojo Instructor.
---
Robas Otsotiros Baston Arnis System (ROBAS)
By: Joshua Daryl V. Navarro


To those interested in learning the Philippine Art of Stick Fighting, the founder of Robas Otsotiros Baston Arnis System Grandmaster Pepito A. Robas offers his services in Arnis Classical Robas System, Modern Arnis System, Combative Training System, Cultural/P.E. Program and Shotokan Karate. He handles personalized and group lessons. You can contact him at 09205470806.
---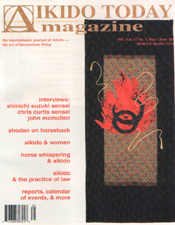 Aikido Philippines 10th Anniversary
By: Rommel L. Miel


Exploding bombs and terrorist's threats did not stop Filipino Aikidoka from celebrating the 10th anniversary of their organization Aikido Philippines Inc. (Aikiphil).
November 15-17, 2003, they marked the occasion with a seminar series on the theme "Aikido: Bridging Cultures and Boundaries." One hundred ten Aikidoka from fifteen Aikiphil dojos around the country participated, along with visitors from other countries. Held at the Philippine Amateur Judo Association (PAJA), Sports Medicine Complex, Rizal Memorial Sports Complex, Pasay City, the series contained eight intensive and demanding 2-hour sessions over three days.
A number of Japanese teachers and students graced the affair. One of the teachers was 82-year-old Kazue Otani Sensei (7th dan), the Chairman of the Chofu City Aikido Federation and a member of the Tokyo Municipal Aikido Federation Board of Directors. Otani Sensei had a remarkable association with O-Sensei, with whom he studied in the 1960s: they generally did not talk about Aikido, but about farming. Other teachers with Otani Sensei were Shizuo Yasue Sensei (6th dan, Chief Instructor of the Asahi Newspaper Aikido Club, Tokyo) and Mutsuko Minegishi Sensei (6th dan, Founder of Guam and Saipan Aikikai)...

---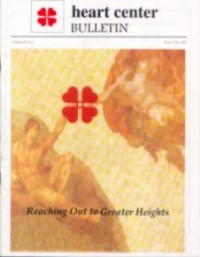 Aikido, anyone?
By: Elmer Benedict E. Collong, RMT

Summer in the Philippine Heart Center saw the launching of the Aikido Summer Program last April 4, pioneered by Dr. Santos Jose G. Abad and Dr. Valentin G. Yabes. Encouraged by the favorable response to the Aikido demo conducted by Crispin Buenaseda Sensei last February 11, Val sought and gained the support of Dr. Abad and other "kindred" spirits like Lilibeth and Patrick Balagat, Brenda Abarejo, and myself (Dr. Yabes, after all, can be really, really, really persuasive). Servier, Astra, Wyeth and Bayer also helped out each in their own way. With the blessing of Dr. Ludgerio G. Torres, the MAB Hall was transformed into a thirty mat dojo every Monday, Wednesday and Friday evening with thirty plus students of varying ages. Teaching with Cris Sensei is fellow yodan (4th dan blackbelt), Willy Li Sensei, and Manuel Becilla Sensei, a shodan or 1st dan blackbelt. Already, it has attracted the attention of the local aikidoka (that's an aikido practitioner, my friends) community and was offered probationary status as a recognized aikido dojo of Aikido Philippines, Inc., an affiliate of the Hombu Dojo of Japan
But what is Aikido other than that Japanese martial art Steven Seagal uses to throw around bad guys in his movies? Seagal popularized Aikido much like Bruce Lee did for Jeet Kune Do. But would you believe that between the flying opponents and bone-snapping action on the movie screen is a martial art developed by a religious pacifist with a unique background and a surprisingly altruistic intent?.....
---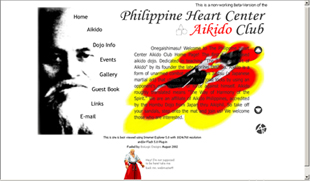 PHC Aikido Club Beta Sample
By: Joshua Daryl V. Navarro


Please check out the beta sample of the new upcoming PHC Aikido Club Website. Its not yet fully functional because I plan to gather and amalgamate ideas from members and everyone out there, if you have any comments and/or suggestions regarding about the new and upcoming website please! please! e-mail this address, your input is everything to us... thanks a lot!
ADVERTISMENT



Morihei Ueshiba